by
dylan
This is not a bikepacking bike.  This is a "fully-loaded and long distances touring on mostly quiet rough roads" bike.  About 49 weeks and about 15,000 miles / 25,000 km, in a loop of the Continental USA and some of Canada and Alaska.
Coffee on the Wyoming border.
Including but not limited to:
– real sleeping bag (night low 20F,  day high 108F) and a pad
– double wall tent with a pole and stakes
– 1 litre pot, stove, fuel, coffee cup
– a couple days' of food
– puff jacket
– full gore tex, almost waterproof socks and mittens, fleece gloves, wool hat
– 2 tallboys (Rainier)
– 2 pairs long underwear tops and bottoms
– space for about a gallon of water
– 4 bizarre thoughts
– tools: all the usual, plus Rohloff stuff and two spare tubes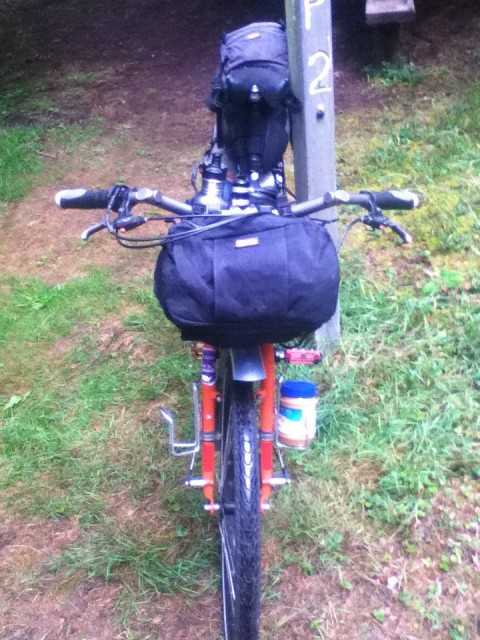 16″ Surly Troll, steel, mechanical disc brakes, fenders, everything is heavy and awesome. All bags by Revelate Designs but one is from the Epic era.  Maybe a 30 pound bike with 20 pounds of gear?  Rear rack for strapping a spare tire to, or to carry a big tarp on, or to hold a $5 hot-and-ready from Little Caesar's — but I'd rather pony up the extra dollar and get a second topping and wait 10 minutes at Domino's.  Better, and more, sauce.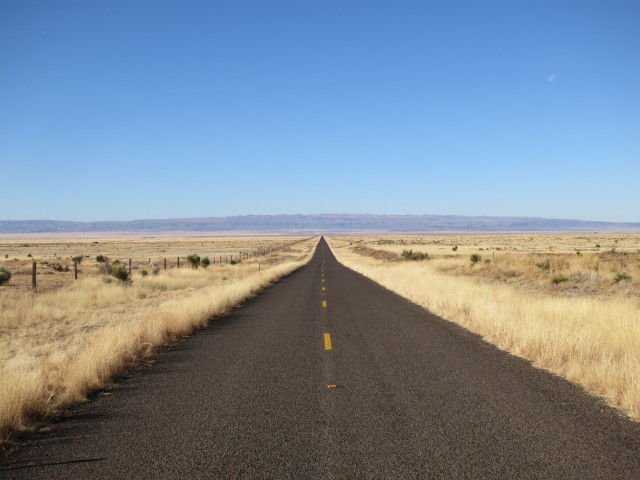 Texas
Pitch your tent, pitch your tarp, build a fire.  Stop being so serious.