by
Chris Hunt
As requested. Detail photos of my handlebar and GPS stem mount (I've added Syntace C2 bars since the original photo, but the GPS mount still works fine). Basically buy a standard Garmin GPS handlebar mount, drive the pivot pin out with an awl, hacksaw the extra bits you don't need, curve the bottom with a file (optional), drill two holes across it and zip tie it to the stem on a piece of thick rubber. The only thing I would do different might be to not hacksaw as much of the rear portion down, so the GPS sits a little higher closer to the top tube (flatter visually). Just a preference making it slightly easier to see.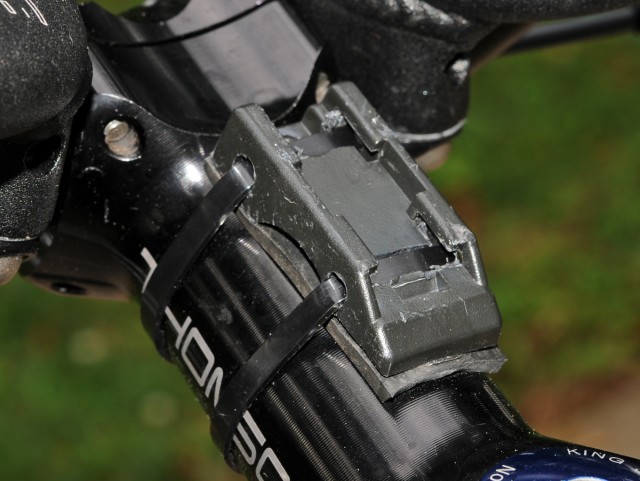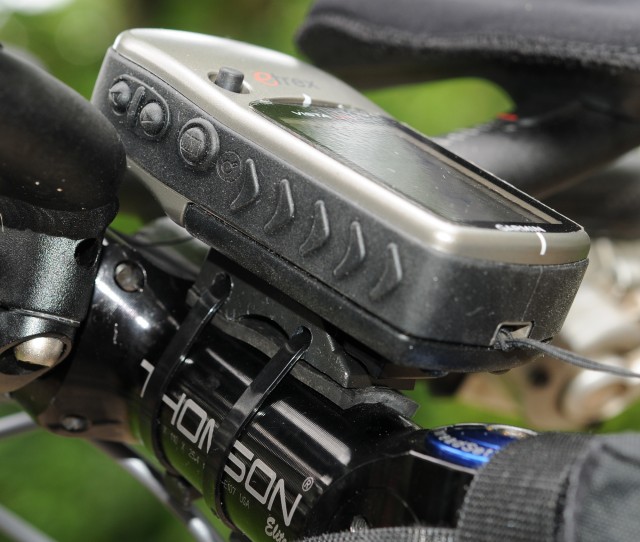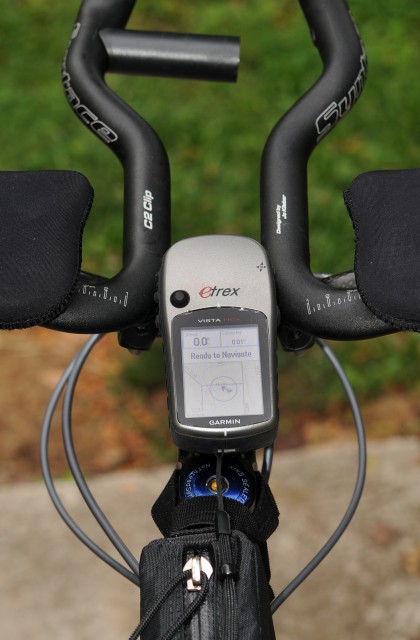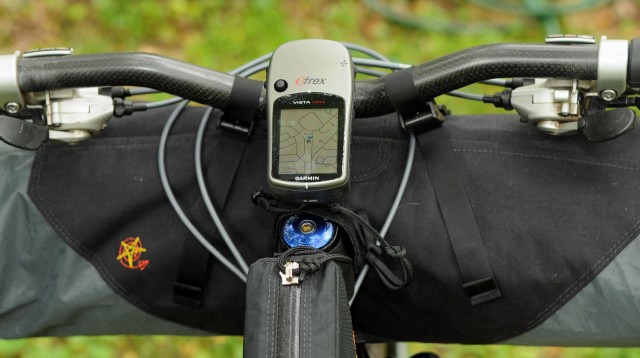 Bikepacking gear list updated 5/14/11
Bike:
2004 Moots Mooto-X YBB 29er , Bontrager TLR 2.5 tubeless tires, StansZTR rims and sealant with DT 350 hubs custom built wheelset from Mike Curiak (Lacemine29.com), Shimano XT front and rear derailleur/shifter, XTR cranks, Speedplay Frog pedals, Chris King headset, Easton Monkey Light bars, Rock Shox Reba front shock, Ergon grips, Easton Elite stem and set back seat post, Avid BB7 front and rear disc brakes, Carousel Design Works handlebar bag (md) & seat bag (md) with Fuel pod, Revelate top tube (Tangle) pack. Leashed Garmin eTrex Vista HCX GPS w/4GB micro SD card (homemade stem mount) with Mapsource Street and Topographic software with anticipated route (or race course) pre-waypointed, two Camelback water bottles (and or 100 oz bladder), paper maps, see-thru map sleeve for bars, 29er tube and tubeless tire repair kit*, mini pump*
Bod (some choices and deletions made considering forecast):
Wool short sleeve jersey (Ibex)
Synthetic short sleeve jersey (for over 90 degrees)
Wool undershirt (Smartwool)
Long sleeve wool jersey (Ibex) *
Pearl Izumi shorts (2 pair)
Pearl Izumi tights
Pearl Izumi arm warmers
Pearl Izumi knee warmer
Smartwool cycling socks (2 pair) *
Turtle Fur wool beanie
Buff
Marmot Precip jacket (the super lightweight adventure race one not made any longer)
Smartwool Liner gloves *
Smartwool Microweight top and bottom long underwear for sleeping
Marmot Driclime windshirt
Spare eye glasses
Osprey Talon 22 backpack with dry bag inside
Bandanna!
Helmet (with bill?)*
Suunto Baromter/Altimeter watch (Vector)
Cash, credit card(s), ID.
Spot Locator (if needed for race)
Cell phone (possibly calling card)
Camp:
Big Agnes Fly Creek UL1 tent with BA footprint
Mountain Hardwear Phantom +35 down bag in Sea to Summit compression dry sack
Big Agnes Air Core sleeping pad
Snow Peak mini solo titanium cookset
Esbit Stove with pack of fuel tabs and LIGHTER*
Titanium Spork *
LED Headlamp w/fresh batteries (spares)
Reversable stuff sack (fleece inside) for 'pillow'
Water filter
TP
Dr Bronners Peppermint soap (can be used as body wash and toothpaste)
Fire making waterproof matches, lighter, etc.
Bike repair/emerg/maint:
Spare derailleur cable (with end cut)
Multi-tool (small)
1 inner tubePatch kit and tire boot
Tire pump
Park chain breaker and small tool kit allens, levers, etc.
Chain lube (waterproof)
Small rollup of duct tape or gaffers tape around pencil
Small first aid kit: ibuprofin, alcohol wipes, bandages, sunscreen
Whistle
Paper & grease pencil with gaffers tape wrap
Wet Ones or baby wipes
Chamois Butter
Assorted nuts and bolts, cleat bolt, spare hanger*, spare brake pad set, zip ties,
Food:
Coffee or equivalent (TBD)*
Freeze dried foods*
Assorted Cliff Bars, etc.
Gorp
Antacids
Scotch?
Bear bag and cord
Non-essentials:
Camera (Canon Elph) point and shoot
Small closed-cell foam sit pad
Addendum
Shakedown ride 12/14/2011
After some unplanned hand surgery which sidelined me for the fall, I finally  got a chance to do a shakedown S240 on the new rig. Since the original setup in spring, I've changed a few things. Namely, I switched from the Esbit stove to a nice Soto burner w/butane setup and have gone to totally wool garments for my daily ride and apres ride clothes, which need way fewer washings and have some pretty incredible temperature ranges they can handle. The Soto stove boils water in a flash (something the Esbit really only ever just got water hotish), plus the Esbit had a smell that permeated the pots, food and any thing it was packed remotely near with a sort of dead fish smell. I loved the weight and simplicity of the little German stove, but the smell was a deal breaker on the fuel tablets. One other thing, my S240 pointed out was the Big Agnes Air Core inflatable sleep  pad transfers a lot more cold air from the ground than I'd ever imagined. Even with the mild temps this past week in the Georgia mountains (high 60's day 40's at night) I was still moving around at night in my bag due to cold spots building up under the bag. The Air Core will be wonderful in Spring/Summer/Fall but winter will need something else. The bag was rated to 32f, which I'm fairly certain it can handle, but the Air Core is the culprit here. That will need to be addressed for anything colder than the 40's at night. I've also (since these photos were taken) procured a larger gas tank bag from Revelate Designs for my camera gear. The smaller Carousel is nice, but I found the space lacking for more than a small point and shoot and nothing else. The bigger Revelate will also now play much nicer with my under the top tube Tangle bag which I absolutely love. One of the other observations in a real ride scenario, was the bike had a tendency to always feel front heavy and a bit too sluggish. On Day two I decided to not pack my tent poles in the front bag and strap them onto my Talon pack instead. This helped a lot with the front heavy feel. Anyway, I thought I'd update this shakedown on my personal setup page to make things a bit easier to find for the ongoing exploration and testing. Overall the bike and the gear are amazing and the feeling of being a self contained go anywhere turtle can't be beat. Now for some photos from the overnight. Cheers.
Forest Service 44 along the Chattahoochee River just north of Helen Georgia. This is the main tributary for Lake Lanier, which attempts to quench the thirst of 5 million Atlantans and their water needs. No small task. Here it's just a beautiful trout stream.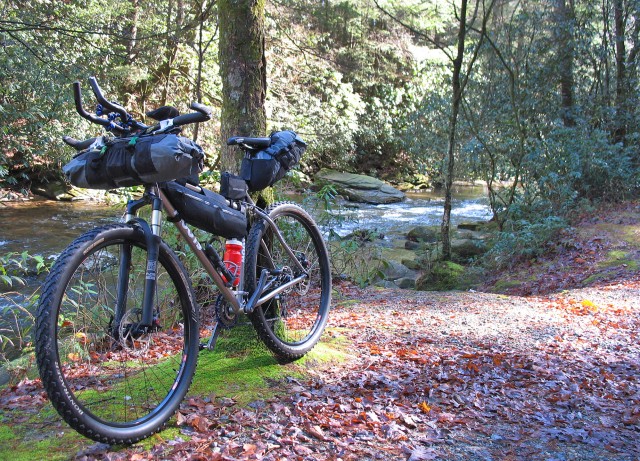 This is a what southern winter looks like most of the time in north Georgia. Leafless trees open up the challenging terrain and the FS roads can't be beat. Also very few Atlantans (or Georgians) venture out when the temps drop. On a weekday on this trip I passed two cars total and saw one other (auto) camper despite the relative balmy conditions.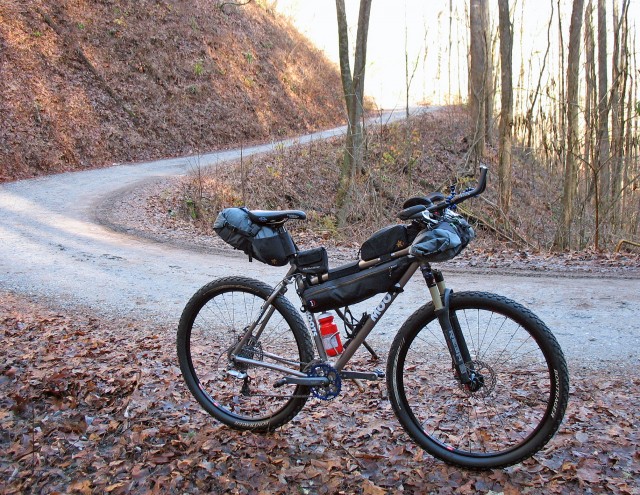 This is the expression one makes when they have ten seconds to run back to their precariously tipping toward the river bike. Ibex wool knickers, Vintage Velo wool jersey and Smartwool socks were all I needed most of the day. I also carried a knee high tall pair of Smartwool snowboard socks for lower leg warmth, which worked really well for the chilly next morning ride down the mountain.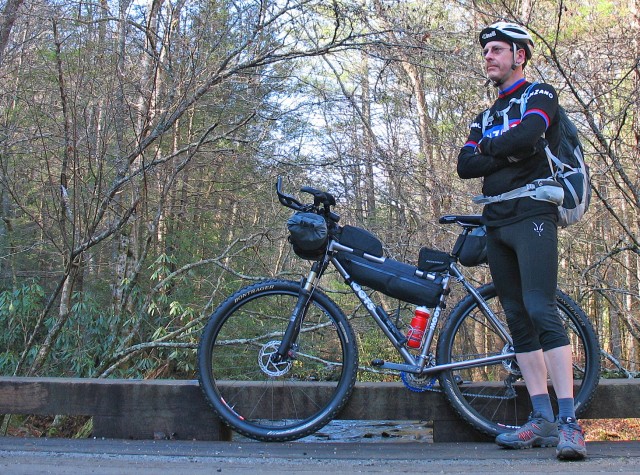 High camp. although there were planty of river level camps 1000′ feet below (with water) I'd decided my plan was to camp high up. Banking on the theory that cold air sinks and warm air rises. High camp was warm enough, but I'd choose something with a spring nearby next time as I'd totally forgotten to filter a bladder full of water as I ascended to the higher (drier) campsite . Still, being a solo trip, this was where I'd told my wife I'd be, so I stuck with the original plan for safety sake. Bears are not uncommon in this area. Something I really tried to put out of my mind for the long, LONG night. On a personal note, take a book when the sun goes down at 5:30 and doesn't rise until 7:30 in mid-December. That's the downside of winter bikepacking in my opinion. Stargazing is pretty awesome though!  BTW that little piece of blue sleeping pad closed-cell foam has been a backpacking/camping companion for 30 years. It has quite literally saved my butt more times than I can count. Knee pad, sit pad, head pad, back pad. Weighs an ounce and is a true friend.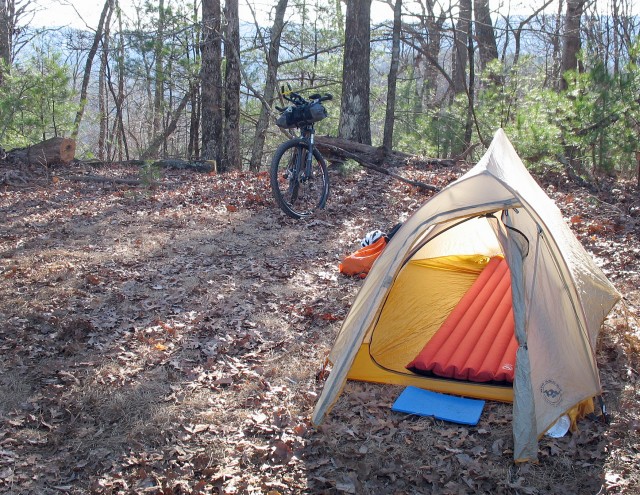 Not exactly the sign you want to see on a trip. This was the FS road I'd be descending on day two. Turned out the Forest Service was just clearing out some tornado downed trees blocking the road and the crew wasn't even working anyway as it looked like they broke their big dog tractor. Mountain tornados are not uncommon in Georgia and they tear great swathes through the forest when they occur. The dead and down timber needs to be harvested soon afterward, as it only becomes fire hazard later.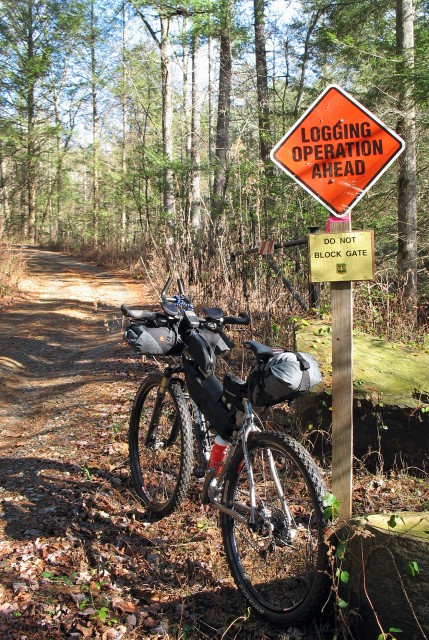 End of the road and back into the Germanesque tourist town of Helen Georgia. Nice parking and jumping off point as the tourist town has a sort of fun feeling to it. Bakeries, beer gardens and breakfast cafes operate year round here. Much to my chagrin, no pigtailed freulines were there to greet me and a dirty bike back to town. Overall I'll give the shakedown an A- with just a few clothing tweaks and one gear upgrade it should be a killer setup and for racing it could be pared down to even less if I went with a bivy (which I have) and minimal sleeping bag or quilt. That setup will be tested soon as well. Very happy camper here with special thanks to Bikepacking.net for all the community tips and cool helpful information.