by
carrotcake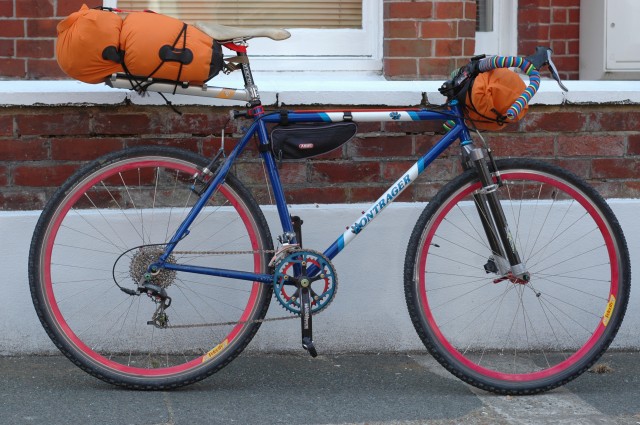 This is a creation of needs. My cyclocross bike got written off in a crash and I had this Bonrager frame sitting idle with little use. The CX bike got stripped and the components transfered to this frame. It is a bit of a bastard creation with 700c wheels on a frame designed to take a 26′ wheel.
I bought some Salsa Woodchipper bars and Moto Ace stem to achive a more commanding riding position for extended trips. This bike is supposed to be a stop gap until I buy a new CX machine… but i'm growing quite fond of it. The frame is a large Bontrager Race dating to about 1996. Forks are Pace RC31. Brakes are Pauls Motolites. Gearing is a mix match of Shimano 105 STi combo, XTR rear mech, 11-34t 9sp XT cassette, 46/36t Pace chainrings on175mm Raceface turbine cranks, Hope hubs, SRAM chain, Velocity rims, DT Revolution spokes, Panaracer CinderCross 35c tyres, Flite ti saddle on Syncros post.
I'm going to sort out some propper bags at a later date, but for the time being this gets me out on the hills and away from the town. So far i've been out on several overnighters here in the UK. I want to string together a longer 2-3 night trip at the end of fall and adjust my gear to suit.
Here is a general overview of my gear and how I pack
The rear rack is a Topeak item.
Alpkit 20l drybag on the rear, containing –
* Alpkit Pipedream 800 bag
* Alpkit Hunka bivvy bag
* Alpkit Rig 7 Tarp
* Alpkit MiTiMug
* Paracord
* Pegs
* Coleman 100 Gas cartridge
* Fire steel
* Howies outback softshell jacket
Abus frame bag, containing
* Park tools multitool
* Leynze micro pump
* 700c tube
* Patchkit
* Emergency cereal bar
* Montane featherlite smock windproof
* MSR pocket rocket
Alpkit 8l Drybag on the bars, containing
* Alpkit aircirc thin sleeping pad
* Shimano XTR beanie hat
Northface Hammerhead hydration pack (older model), Contains
*Food –
*Snacks
*3l bladder of water
*knee warmers
*Change of cloths
*Victorinox Swiss Champ knife
*Spork
*Alpkit Gamma Headtorch
*Alpkit fillet down vest for cooler time of year
*First Aid kit
Me
*Howies merino wool jersey
*Cannondale short/liners
*Northwave mission shoe
*Thin wool socks
*Specialized gloves
Thanks for looking and feel free to feedback