by
Andy Amick
My current singlespeed setup involved a bit of a rags to riches story when it comes to my bags.  The riches being the handlebar bag and the rags being the homemade coroplast seat bag.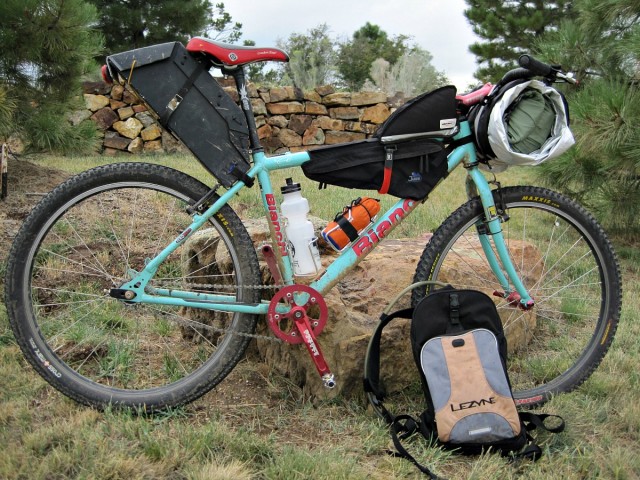 My philosophy in packing my gear is to keep like items together.  There may be better ways to distribute the weight, but I like knowing that all of my sleeping gear is in one place.  I'm also a fan of MYOG as you will read.  It's fun to come up with a new crazy idea to see if it will work.
I have tried to include as many product links as possible so you don't have to search around for the products.  Hopefully that helps.
Starting with the riches.
Handlebar bag:
My handlebar setup contains my entire sleep system and personal care items.  I use a Revelate Designs Sling and Small Pocket with an OR Dry Bag.
The dry bag contains my sleep system:
Wrapped around the dry bag is an Adventure Medical Kits SOL Thermal Bivy with a Kooka Bay sleeping mat inside the bivy.  The bivy acts as a ground cloth and doubles as, get this, a bivy sack with my quilt inside if it's extra cold or rainy.  This is an idea that I just came up with and I haven't had a chance to test it.
Inside the handlebar pocket is my Pale Spruce StayOutThere kit* (first aid, sun care, hygiene products, emergency gear, and knife).  The pocket also has room for other gear such as maps or cue sheets.
*Disclaimer – Pale Spruce is my company and I design/sell the kits.
Frame Bags:
The gas tank bag is an Eleven 81 Top Triangle bag that I flipped around for a gas tank.  It carries odds and ends such as phone, spare batteries for lights, spare tube, and extra food if needed.
The frame bag is a Jandd Frame bag and its sole purpose is to store food.
Downtube water bottle holder
This is another new idea.  I have my Campmor rain pants in a sil-nylon stuff sack and then it is strapped into the cage.  I don't need/use the rain pants very often so they get tucked away here.  Eventually, I would like to have a larger frame bag to hold items like this, but I'm making do with what I have right now.
Seatpost Bag
Homemade coroplast seatbag.  The idea came from reading about Kent Peterson and all of the coroplast items he has made.  The "bag" is painted matte black to make it look a bit more respectable 🙂  I have had this "bag" for several years and it is still holding up quite well.
You can't see it in the photos, but the bag sits on a bracket made for slip on fenders. I designed the bag around the bracket so that it would have a sturdy attachment point.
Contents:
Spare clothing (shorts, socks, base layer)
Arm warmers
Knee warmers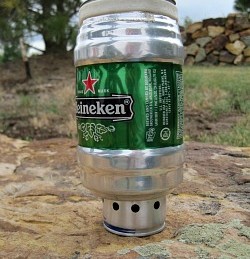 Walz caps wool cap with ear flaps
Toe covers
Long fingered gloves
Eyeglasses
Heiney pot for my morning coffee.  The pot is packed with my homemade alcohol stove, coffee, lighter, and alcohol.
Carbon pole for tarp
Emergency space blanket
Small notebook and pen
Hydration pack
100 oz. water bladder
Bike repair items (multi tool, patch kit, spare nuts and bolts, spare chain link, second spare tube, small pump)
Plenty of room for more clothing or other items
I think that covers it all.  Hopefully this is not too long and detailed.
Andy