by
alirawk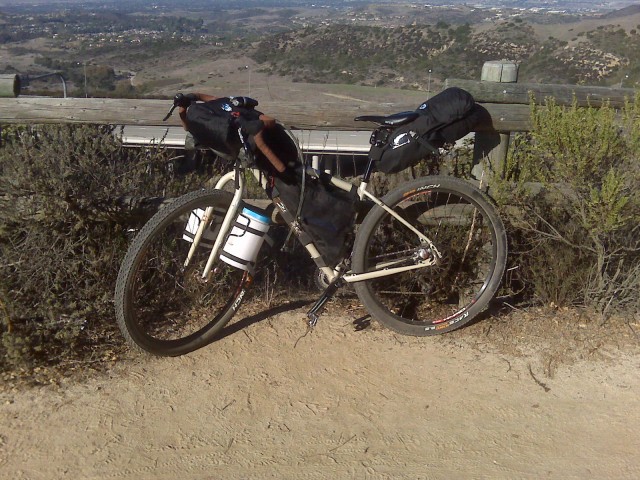 Fargo Set-Up
Salsa Generation 2 Fargo
Full Porcelain Rocket kit (handle bar bag, handle bar bag pouch, custom frame bag, seat pack customized to fit Cane Creek Thudbuster, top tube pouch)
Salsa Anything Cages
Couple of 5" diameter/8″ tall plastic canisters from the dollar store 
On Me
Helmet
Shorts
Shoes
Gloves
Sunglasses
Socks
Lip Balm
Top Tube:
Camera
Food
Headlamp
Phone
Credit cards
Cash
Keys
Handlebar
Light
Cat eye
Handle Bar Bag
Big Agnes Seedhouse 1 Tent
Tent poles
Sleeping pad
Food
Front Fork Canisters
Emergency blanket
Waterproof matches
Lighter
Steripen or Katadyn water filter
Extra socks
Extra shirt
Leg warmers
Arm warmers
Food
Kitchen:
Snowpeak stove
Titanium cup
Lite My Fire Spork
Gigapower (1 of the small ones easily lasts me several days)
Toiletries:
TP
Wet wipes
Small bottle of Bronners Soap
Toothbrush
Small toothpaste
Butt Butter
Small 1st aid kit
Sunscreen
Bug Repellent
Seat bag
Marmot Helium 15 sleeping bag
Down sweater
Long sleeve layer
Marmot Precip
Bungeed to bottom of seat bag
Camp shoes
Frame bag
Top section:
4l MSR Dromedary with hydration kit hose that extends out from a dedicated port in the top of the frame bag
Food
Bottom Section:
Tools:
2-4 CO2 charges
CO2 adapter
Patch kit w/glue
Presta nozzle adapter
Spare tube
Alien II
Leatherman
Chain lube
Tire levers
Lots of zip ties
Small trowel w/duct tape wrapped on handle
Chain cleaner
Spare derailleur hanger
Spare derailleur cable
About 30' of 5mm accessory cord to rig up various things, e.g. hanging up one of the plastic canisters over a branch with food in bear country.
Various spare nuts and bolts
I'm pretty new to this, but come from a lot of years of rock climbing. A good deal of this gear I had already from back country climbing adventures. My goal was to keep everything on the bike and nothing on my bike. I seem to have achieved this goal. The Porcelain Rocket bags are awesome. Absolutely top-notch quality, design, and production by an awesome guy, Scott, who is eager to communicate with you to insure you receive exactly the best product to fit your needs. The canisters on the front fork happened by accident as I first tried using dry bags, but they seems to sometime snag on the spokes sometimes when the straps loosened in rough terrain. This way I can cinch the straps way down, the canisters are relatively water-resistant, super light, and work as excellent containers for food that needs to be hung up. I've tried throwing food in dry bags, but the Sierra Nevadas are full of some persistent critters that will find and chew threw almost anything to get to an almond inside. These canisters seem to prevent that.
The pics attached actually show the bike with all of the above gear loaded. I've had no issues with steep hike-a-bike sections or with tossing the bike over fences. As far as stability, the Porcelain Rocket kit so perfectly hugs the frame and handlebars that the bike rides perfectly smoothly. I often will ride hands free for long stretches over gravel and rocky dirt roads to stretch my bike and have not experienced any sort of shimmy or wobble. The heavy stuff is largely in the middle of the frame with a few small, heavier bits in the canisters.
I know it might seem like a bit of overkill, and I would love some suggestions. Coming from a climbing background, I suppose I'm used to carrying a lot of heavy gear and perhaps need to adopt more of an ultralight ethos with bikepacking. Thus far I have had no problems in the rides I've done experimenting with my set-up. Nevertheless, suggestions and comments would be eagerly welcomed. My aim is to be ready for the AZT or CRT this coming year and the Great Divide Tour for 2013.
Thoughts, comments, suggestions?